Mark True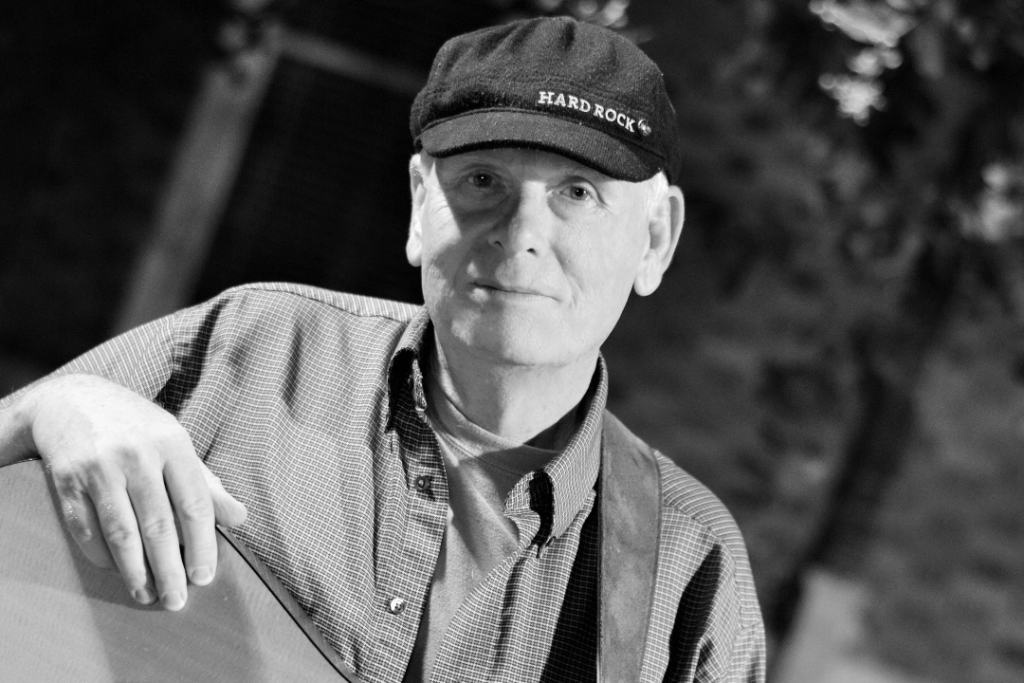 Born in England, Air Force brat Mark True lived in Virginia, Alaska, Colorado and Ohio before ending up in Valdosta, GA where he got his first guitar for Christmas while in the fifth grade.
He began writing songs in the seventh grade even before he owned a record album. His first song was about the Vietnam War.
Mark went to the University of Tennessee in Knoxville, where he played trombone in the "Pride of the Southland" band and majored in music composition. In the spring of his freshman year, he auditioned for, and was invited to be a cast member in one of the music shows at the newly created Opryland USA music theme park.
Bobby Bond, the guitar player in the show's band heard a few of Mark's original songs and took him to meet with Don Gant, then head of and producer for ABC/Dot records. Don was impressed enough to have Dianne Petty sign Mark as a staff songwriter for ABC/Dot publishing at the age of 18.
The ABC years gave Mark the opportunity to learn more about the craft of songwriting, the ins-and-outs of the music business and to work with many successful writers, singers, musicians and producers.
One of the musicians, Charles Cochran, who was producing New Grass Revival and had just finished Townes Van Zandt's "The Late Great Townes Van Zandt" album, took a liking to Mark's style of writing and introduced him to a new Englishman in town, Roger Cook. Roger with the help of Ralph Murphy had opened Picalic Publishing and signed Mark right away as a staff writer. Good things began to happen at Picalic.
Crystal Gayle recorded Mark's, "Why Have You Left the One You Left Me For" and it became a number one country and adult contemporary song and a top 20 pop song. (The song has now been recorded over 37 times in seven languages.) Crystal also recorded "Too Many Lovers", which also went to number one on the country and adult contemporary charts. Both songs were produced by Allen Reynolds.
 Don Williams recorded "Don't Stop Loving Me Now" on his "Listen to the Radio" album produced by Garth Fundis. Garth also produced Mark's song "She Still Knows How" on Russell Smith's (formerly with the Amazing Rhythm Aces) solo album. Many other songs were recorded during the Picalic years by artists like The O'Kanes, Sandra Steel, Brice Henderson, Rachel Prine and others.
Scott Tutt, founder of one of Nashville's first roots and alternative country label, Reptile Records, recorded many of Mark's songs on Reptile artists including, Brice Henderson, Susan Marshall, Jerry Dale McFadden and the Insta-gators among others.
After Picalic was sold to EMI, Mark met and was signed by Buddy Cannon (Kenny Chesney's producer) to Mel Tillis's publishing company Sawgrass Music where he continued to have songs recorded. Including "Permanent Tear" by Burle Ives, one of his last recordings and performed at the White House.
Though Mark concentrated on his writing he often performed around Nashville. He was a regular at the Bluebird Cafe in the early years, Mississippi Whiskers and The Villager. He also was a part of many publisher showcases at various venues.
Today, Mark is living in Auburn, AL where he continues writing, pitching songs, playing live gigs and songwriter's festivals.